Mixing & Mastering Services
Price: $54.95 per song up to 20 tracks
Want to Hear a Before/After Mix?
Click here to download a before/after mix, so you can hear what our mixing and mastering services can do for you. Basically, if you have any type of condensor mic, you should be able to get a sound good enough for us to mix it with as high a quality as the before/after mix here. We are highly confident that, with our years of experience and access to great music equipment, that we can get your sound to a different level than it's on right now.
Before You Submit Your Songs
We basically have a few guidelines. When you deliver us all of your files, please do so by creating a Zip folder and fill it with all the separate tracks. A zip file can be created by simply right clicking your desktop and creating a folder, then right clicking the folder and clicking "Go To: Zip file". Mp3's work fine, so do .WAV's. As long as the files are not corrupt! Send us the songs via SendSpace.com, WeTransfer.com or YouSendIt.com; send the files to mystikceo@gmail.com, one song per .ZIP folder.

Other Than That, Line Each Track Up to the Left
We've included an image on what this looks like just in case your confused, but because we may not be using the same recording program as you, we ask that you find a way to line up each track all the way to the left. This way we don't have to second guess where all the different vocals go, we can just go in there and do our job which is mixing & mastering… Not arranging. The picture below should show you what we mean by line tracks up all the way to the left: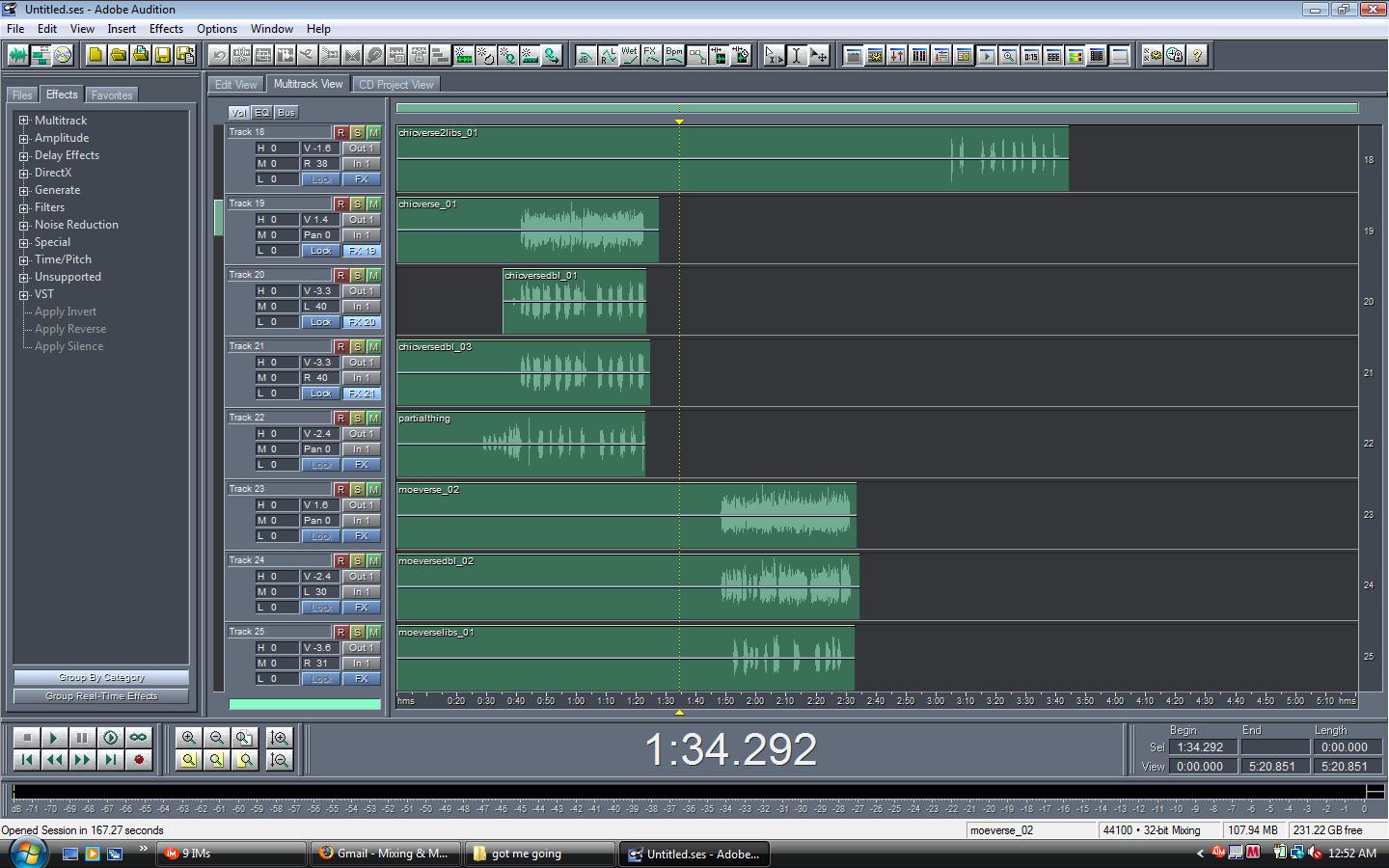 If you have any other questions, please feel free to contact our staff via our Contact page. We look forward to mixing and mastering your music, and once you see the quality we deliver you will never go back. Many of our clients choose to return, paying again and again for the same services we've been offering for years. We have more than 3 qualified sound engineers on our roster, and you can bet that any one of them will knock your mix out of the park.
Our goal is to show your song to our engineers and see who has what feedback on the track before we even get started mixing. We make sure that the sound engineer accompanying your track will be the most fit for your particular song, and we will work with you until you are satisfied with the mix. We have a limit of 3 mixes so that we aren't continuously mixing songs over and over again, but our customer satisfaction is our prime concern, so we will do our best to make the mix perfect to your standards(within reason).

Note: The prices of mixing is considered per song, but does not include mixing the beat. In general, you will send us the .WAV mixdown for the beat along with all your vocal files. The beat should just be one mixdown, but please include all your separated vocals. The vocals is what you pay us to mix. If you want the beat mixed as well as the song, the price is double. Simply pay twice per song and we can accomplish both mixing the beat and the vocals for you.